This summer, I have several projects that I need to work on.
The first is a re-do in the screened porch.
We have vinyl siding on our house. It's pale yellow. I did not pick it out. The house was like that when we bought it. I have been dying for years to take the siding off in the screened porch to see what was underneath it.
This is it. Light yellow clapboards. I was hoping for barn red. Plain or varnished wood. Anything different. But its exactly the same. So I started sanding and filling nail holes. I'm planning on painting it all white.
Need to get the ceiling done.
When we moved in, there was a fiber board ceiling in here that we pulled down. I always wanted to have it sprayed white. But I am now looking for quick fix so I think I'm going to put bead board up.
The floor is in not-so-good shape.
It's "remnants of brown" brown. I'm leaning towards gray or bluish gray for the color. Only thing is, it's been raining again lately so it may not be dry enough to paint it. I'm hoping next Wednesday will be nice because I'm off work.
I also have this table and chair set that used to be in my kitchen.
I didn't like it when it was in the house and I don't really like it much more outside. I'm hoping to paint this as well, though I'm not sure I'll get to it since there is so much to be done. It has to stay since we eat out there everyday in the summer. It also serves as the game table when we play Dominoes or Scrabble.
One more thing is this glider I garbage picked a long time ago.
We have a big futon mattress we put on it every year, but it's really large and takes up so much space. I should probably buy or make cushions for it, but I have the feeling the family will be against that since the futon makes it really comfy and we like to take naps and read there. Maybe next year for that. I always debate painting it, but its such a cool old green and I really like it.
Wish me luck to get it all done before my 4th of July party!
Last night I went to the grand opening of the new
Anthropologie
store in our area. I am so excited to get a new retailer in our part of New York. The store was quite beautiful visually and all the clothing and home goods were wonderful. It will be nice to have a new store in our area to shop in. We never seem to get the really special stores that I would love to go to. It will be very hard to come away from the mall without picking up something there.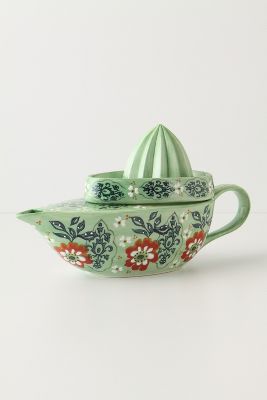 I loved this juicer I saw there. I have a fetish for them.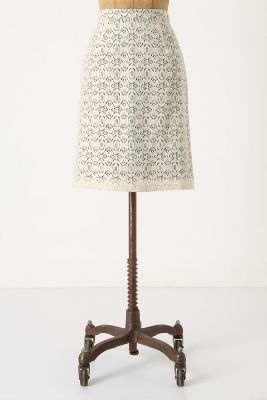 Photos from Anthropologie.com
This skirt I saw in the store was gorgeous. One of the sales ladies was wearing it and it looked great on her. Might just have to get it before the trip to the Cape this year.
Since we had some hot weather before the rain, my daughter was making cool drinks for us this week. I pulled out one of my old
Martha
magazines and we found three pages of cool summer drinks.
The first one she made was this blueberry smoothie.
All it takes is:
1/2 cup blueberries
1/2 cup low fat vanilla yogurt
1/2 cup skim milk
2 tablespoons honey
5 small ice cubes
Mix all ingredients in a blender until smooth. Serve immediately in tall glasses.
It was delicious!
The next day she made a sweet frozen drink called "Latin Lover", but I didn't get any pics of it.
Tomorrow I am off to an antique fair and artisan show with some friends. I will make sure to take my camera so I can show you!
Have a great Friday! Fireworks in my hometown tonight! Can't wait, it always signals the start of summer for me.